Hey Y'all! Chef Jaena here, your sweet and sassy Southern Vegan Chef from the first episode of "Peeled".
I was the first eliminated from the first episode of the first all-vegan cast cooking competition show and in proper scorned-woman form, I'm about to spill ALL the tea on what REALLY went on behind-the-scenes at the red carpet premiere of Peeled.
🍿Pop the popcorn, Sugarbuns 'cause it's about to go down…
Confession #1
I confess that I work for Vkind now… and these people are nuts.
After we wrapped on filming the first limited series of "Peeled", the competing chefs and I continued getting to know the Vkind team as we worked on smaller projects together to promote the show.
Eventually, I was asked to join the team after they discovered I'm also a copywriter, which happened to be a position which had recently opened up in the company. Coming on board, I was able to get an inside look at everything they were doing to bring this show and event together.
It. Was. BANANAS.
Not only were there a million little details for the show, the marketing, and the premiere itself, we also decided to throw writing a cookbook for VIP gift bags into the mix.
It sounded so simple. Nevermind the fact that when you added up the number of team members who had published a cookbook, the total came to zero. No problem! (There were problems lol)
Everything this team has done from building the set for "Peeled" in 2 days to filming 3 episodes in only two more to creating a huge red carpet premiere event right in the middle of Hollywood at the Directors Guild of America is something only a bunch of lunatics would attempt.
It's big, bold, and goes ALL IN for the animals. And I'm totally here for it so I guess that makes me a bit cray-cray too!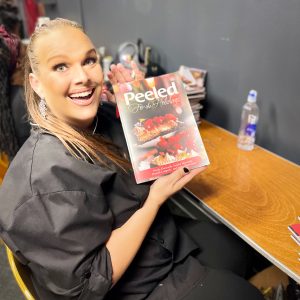 Confession #2
I confess that I had to start work at 5 am the day of the Premiere.
Think the chefs of Peeled were treated to a buffet of glamorous pampering? Think again. We had to create the dang buffet!
Yep. At the butt-crack of dawn. On my special day!!
I'm not going to lie to you; I 100% had a Bridezilla-esque moment when the alarm went off that morning because I was NOT expecting to get up at 4 am the day after I'd gotten up at 4 am to fly to LA.
Confession #3
It was actually my fault I had to start work so early.
What had happened was… that "Dumpling Dynasty" challenge from the first episode pissed me off. If you'll remember from the episode, I literally said, "What sadist came up with this challenge?!"
Needless to say, my dumplings from that challenge sucked (hence, elimination)…
And I wanted redemption…
So when the chefs and I were asked if we'd like to create and prepare recipes from some of the show's sponsored products, I declared I wanted "Justice For Dumplings!" and worked up a delicious recipe featuring Omni Foods OmniPork and Before The Butcher Beef-Style Ground with a sweet and spicy potsticker dipping sauce made with MeliBio Bee-Free Honey.
Dumpling-making is a labor of love and a long one at that.
Families gather around the Chinese New Year to dole out the many dumpling-making roles (over laughter, tears, and family dramas of course) to usher in the celebration of new beginnings, wealth, and good fortune.
Everyone joins in the process because everyone knows it takes ages and I had just agreed to prepare enough to feed 500 guests with only 1-2 sets of sous chefs' hands to help… what on Earth was I thinking?!
I had 5 hours from the time of my arrival at the LA Cooking School prep kitchen to:
Make two huge batches of dumpling filling.
Fold 500+ dumplings.
Make potsticker sauce.
Par-cook the dumplings for quick heating at the big event.
Then prepare a ginormous Southern Ramen Noodle Salad with Thrilling Foods Bakon to go with the dumplings.
Two hours in and the filling was just coming together…
Another two hours flew by and I had less than 100 dumplings folded…
All the other chefs were scrambling to get their appetizers together and we only had so many sous chefs available to help, so I ended up with only ONE set of helping hands.
30 minutes left… there's no way I'm going to make it.
15 minutes… freaking (tf) out.
Times up.
Less than half of the dumplings are folded, I've run out of dumpling wrappers (because I apparently didn't order enough), and the only thing ready for my noodle salad are the noodles. FML.
I suddenly realized the true "dumpling sadist" was none other than yours truly, for I had done this to myself… all over again.. only on a much larger scale.
I suppose that made me more of a "dumpling masochist"? Because I'd just allowed these delicious-and-cruel folded pockets to become my master and was finding myself in major need of a 'safe word'.
Confession #4
I confess that if I didn't believe in miracles before, I do now.
Salvation was delivered unto me in the form of Gerard, the owner of the LA Cooking School; this incredibly gracious and generous man agreed to allow us to add more time in the kitchen for me to finish.
The only catch was the start time had to be 5 am and we had to be out of there by 8 am for another group who had reserved the space.
Not only did he get up at 3 am to drive in and open up the place for us outside of hours, but he also drove around (at 6 am) to three different stores to find my remaining dumpling wrappers.
Then, more angels arrived as Chef Nicole's sous chef (outside of the show) agreed to come help fold dumplings. Then, my sous chef from the day before brought her friend in to help as well.
Suddenly, things were looking up. We were going to make it!
"Justice For Dumplings!" was becoming a thing… or so I thought.
Confession #5
I confess the dumplings almost didn't get served.
After my dumplings-at-dawn experience was complete, it was time to head back to the hotel and get myself ready for the main event.
There in the room, as I was starting to put polish on my nails, the adrenaline from the morning gave way to sheer panic as the evening's event loomed ahead.
My hands began to shake and my nails quickly started to look like I'd assigned my mani-pedi to a toddler; it was so bad I had to send my husband to the drug store for nail polish remover and Q-tips to clean me up.
At this point, I was having a full-on panic attack complete with a pinch of hyperventilating and a dash of ugly-crying. I'm not exaggerating for dramatic effect here; that happened. Fortunately, my husband was a saint and helped me get through.
After riding the panic wave until it broke, I managed to pull it together and get into hair and makeup before heading over to the DGA to set up my station to prep the dumplings.
My plan for cooking and getting the dumplings ready to serve was to gently steam them in chafing dishes. That plan immediately went out the window when my prepped food arrived late and we couldn't find sterno cans to heat up the water in the dishes.
Oh, crap.
We had an oven on site, so I started heating a pan in there but no dice; they weren't heating fast enough, the guests were starting to arrive, and I was being asked to step away from my station for photos, interviews, and press-related stuff.
Did I just go through ALL of that grief to not even serve the damn things? Where, oh where, was "Justice For Dumplings"?
Another angel came to the rescue; Chef Donald made the suggestion to deep-fry the dumplings and had his son running baskets of dumplings over to KraVegan's deep fryers, which they graciously allowed.
Not only did his solution save the dumplings but I even received several compliments on how good they were. Thank you, Chef Donald. "Justice For Dumplings!" became a reality because of you!
Confession #6
I didn't taste a single appetizer during the event.
What else is there to say about this one? I was running around all over the place, meeting old and new friends and by the end of the event I realized I didn't taste anyone's food and my stomach is still mad at me for it.
Confession #7
I confess my first red carpet experience was a hot mess.
I was consulting with two of the "Peeled" judges (Chris and Josie) for their opinion on how to get the dumplings ready (FAST) but the PR contact for the show came over in the middle of it to whisk me off to the red carpet.
An inconvenient truth about me is that I'll break a sweat at the opening of an envelope, so by the time I got to the red carpet, I was looking like I'd just taken a casual dip in the river before strutting my stuff in front of all the press… and right after one of my vegan heroes, actor and activist James Cromwell!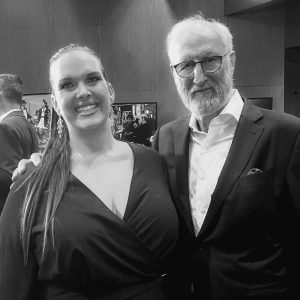 Mortified-on-the-inside, I did my best to set aside self-consciousness while posing for photos and answering interview questions. I can't remember one thing I was asked but I do remember at least patting the sweat off my forehead with paper towels before talking to PETA (yes, PETA!).
Click here to see PETA's tweet about the event.
Confession #8
People were ugly-crying over my elimination.
Ok, that's an exaggeration… but several people did come up to me after the screening to tell me how much my story touched them and how upset they were that I didn't make it to the second episode.
Apparently, my name was also thrown in the hat to be a judge on future episodes. Star, the founder of Vkind, told me multiple guests said as much to her and if I'm asked (hint, hint) I would graciously accept. I can't disappoint my new fans, now can I?
Final Confession
I'd do it all over again.
Stressful and crazy as everything was, I must confess I wouldn't change a thing. Well, perhaps I wouldn't sign up for the 5 am dumpling-making session again… but everything else for sure!
Truthfully, I'm honored to have been a part of creating vegan history. I was a cast member on the first all-vegan cast cooking competition show that premiered in the heart of Hollywood at one of the epicenters of mainstream entertainment (The DGA).
We did something that hasn't been done before and I couldn't be more proud to have my name associated with "Peeled" and this crazy-awesome team of creative and passionate vegans.
Who knows what we'll do next but whatever it may be, it'll be 100% vegan and 100% EPIC. Until then, remember peace begins on your plate; each day you eat fully vegan, you're saving animals and helping the Earth which makes YOU the epic one.
Follow Chef Jaena on Instagram @southernveganchef